The debut of the new harp and Cuarteto Leonor concert,Aug 9, 2014
The Spanish Cuarteto Leonor (Madrid) performed works by Wolfgang Amadeus Mozart and Joaquin Turina in the Synagogue on the 9th of August. After intermission the new harp of Academia Sighisoara made it's debut on the stage, Marie Trottmann played two creations for the stringed instrument by Marcel Tournier and Toru Takemitsu. Later on the quartet, Marie Trottmann and Ana Chifu (flute) performed two chamber music works by Arnold Schoenberg and Heitor Villa-Lobos.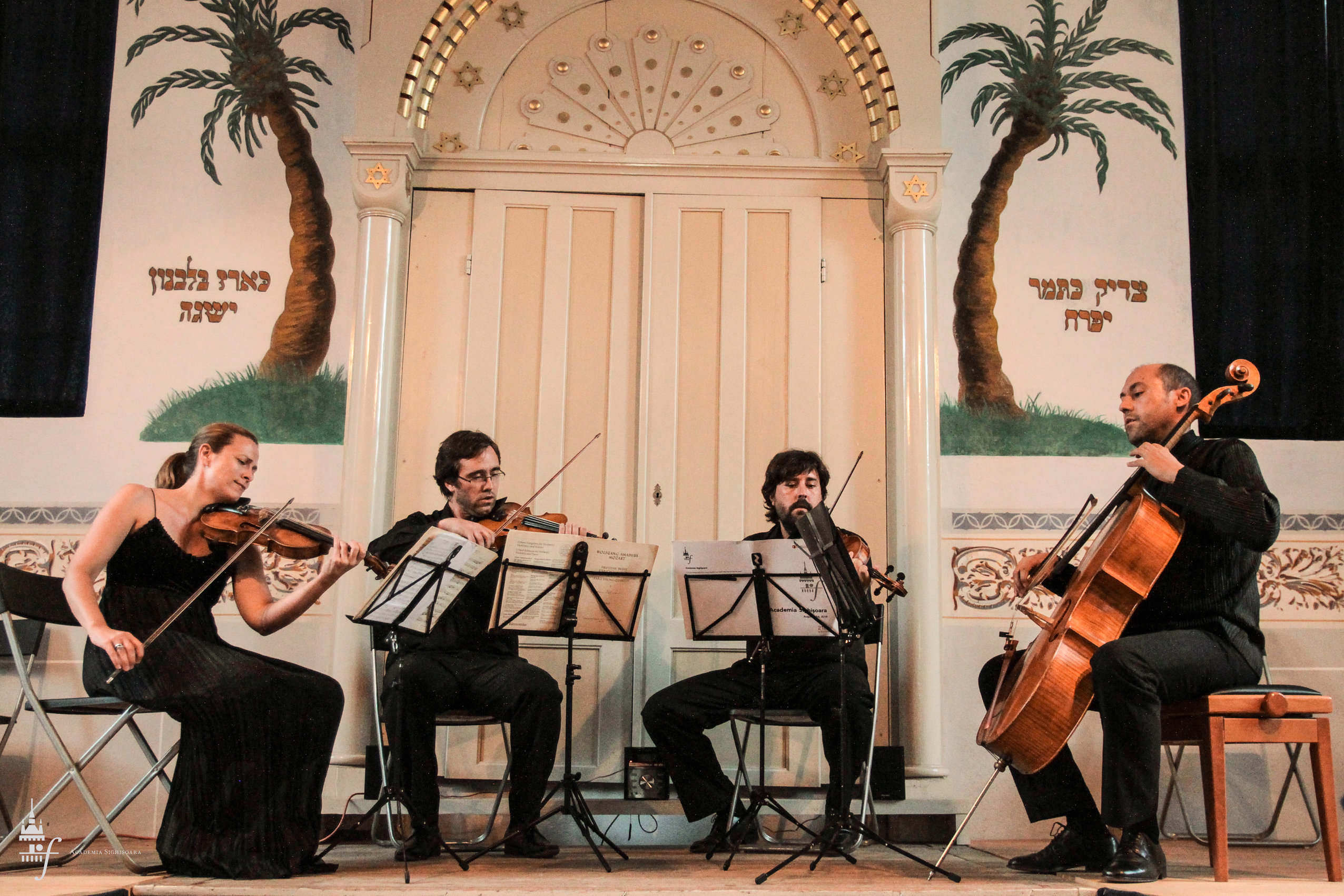 Founded in 2001, the Cuarteto Leonor received its main support and musical inspiration from the historic Melos Quartet, the group with which it completed post-graduate studies in the Musikhochsule Stuttgart before refining itself with musicians such as Rainer Schmidt and Imre Rohmann. From the beginning, this ensemble from Madrid has been developing a continuous concert presence in halls and festivals all over Europe, performing together with musicians like Maria Kliegel, Peter Buck, Tatjana Masurenko, David Pia, Daniel del Pino, José Luís Estellés, Wind Quintet from the Berlin Philharmonic, Enesco Quartet, etc. Throughout the years, it has closely worked with composers like Antón García Abril, Ramón Paus, Alejandro Román and Daniel Schnyder, some of whom have dedicated works to the Cuarteto Leonor.
Its artistic activities include a wide aesthetic diversity, ranging from the performance of classical and romantic repertoires to jazz (during this season, they will collaborate with the New York saxophone player and composer, Daniel Schnyder), collaborations with artists such as the choreographer from the Ivory Coast, George Momboye, and its interest and dedication to the release and dissemination of the Spanish quartet repertoire; a task for which it was awarded the "Premio Ojo Crítico 2011" granted by "Radio Nacional de España".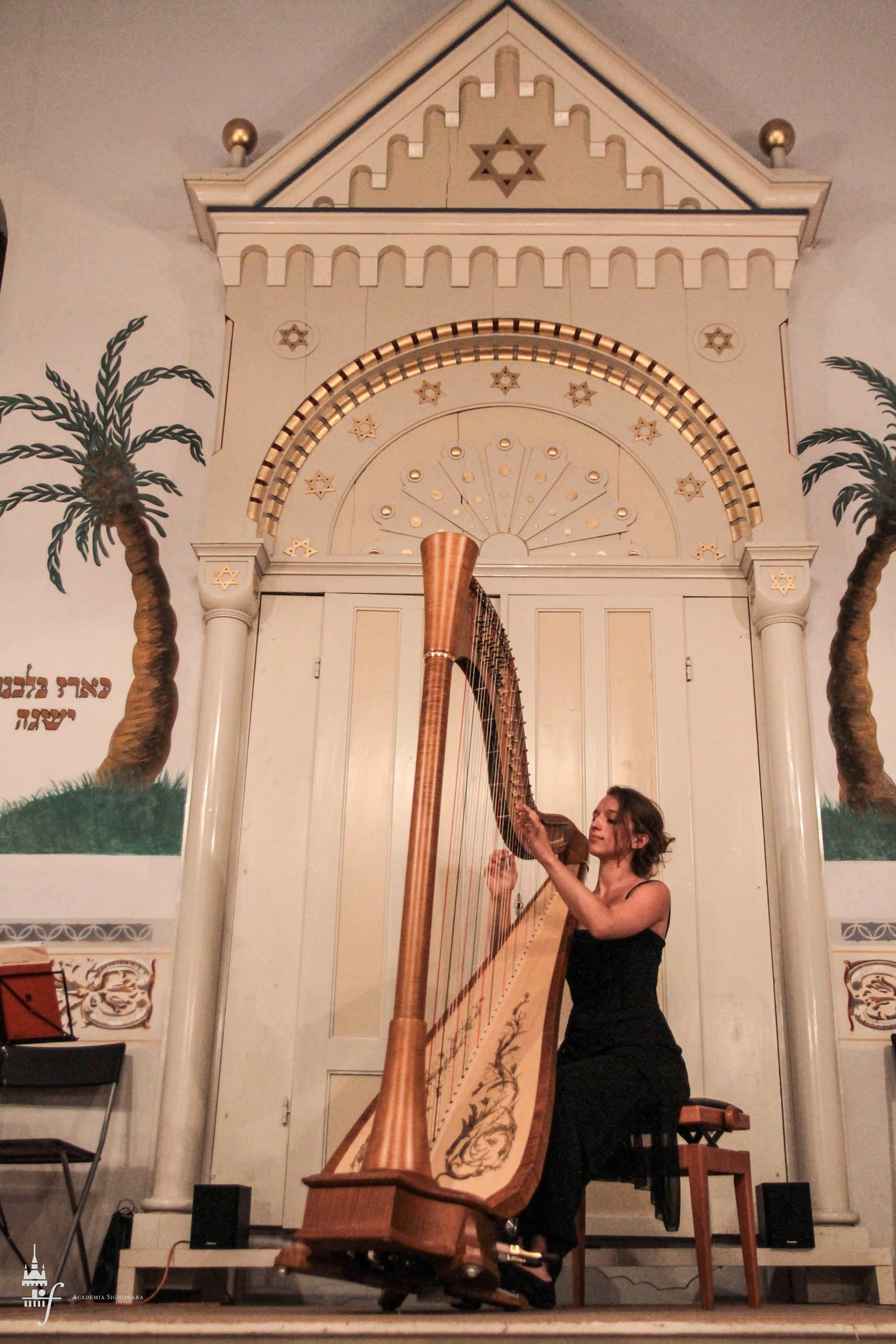 Marie Trottmann began to play the harp at the Conservatory of Neuchâtel (Switzerland). Then she studied under Chantal Mathieu-Balavoine in the Music Academy in Lausanne, where she obtained her Bachelor's Degree with excellence. She moved then to Frankfurt am Main (Germany) to study with Françoise Friedrich at the Music Academy and completed her studies in Pedagogy and Performance (specialising in orchestra) with the highest eminence. She won the first Prize with distinction of the SSPM Interpretation Competition, is engaged as solo harpist for the Tyroler Festpiele, played for an intership with the Berner Symphonie Orchester (Season 2011/2012), she occasionally collaborates with the Frankfurt Operahouse, is the harpist of L'Avant-Scène Opera and plays regulary with diverses orchestras and ensembles. She had the pleasure of teaching and playing for the Festival Academia Sighisoara 2012 and 2013, and for the Festival Autour de la Harpe 2012 and 2013, in Vevey. She teaches at the Music Academy MCA in Switzerland. She has been supported by Lyra Stiftung, Erna und Curt Burgauer Stiftung, Jean Tanner Stiftung, Soroptimist Neuenburg and did masterclasses with Marie-Pierre Langlamet, Godelieve Schrama, Ana-Margit Süss, Jana Bouskova, Isabelle Perrin, Michelle Vuillaume, Park Stickney, Hans Koch, Martin Schütz and Freddy Studer.
With the devoted help of the well known, beloved harpist Marie Trottmann and a group of Swiss music lovers, the Association Cultura Viva managed to purchase a harp for the masterclasses and concerts, offered and sponsored by Les Harpe Camac (France). Read more about the harp here: http://www.academia-sighisoara.com/en/PressRelease/the-debut-of-the-new-harp-at-academia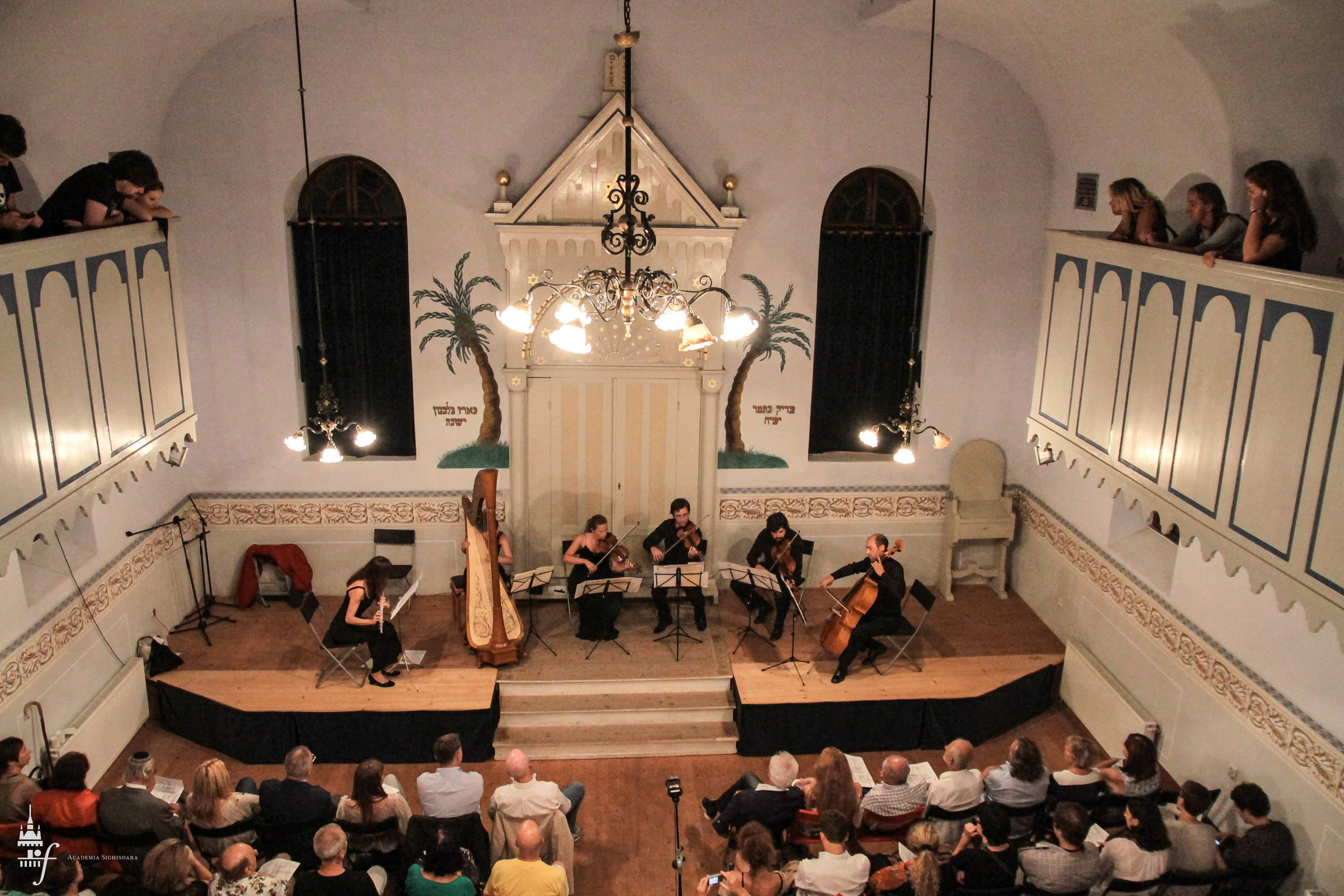 Saturday, August 9, 8 pm, Synagogue
With:
Ana Chifu, Flute
Marie Trottmann, Harp
Quarteto Leonor:
Delphine Caserta, Violin
Bruno Vidal, Violin
Jaime Huertas, Viola
Álvaro Huertas, Cello

Program:
Wolfgang Amadeus Mozart (1756-1791) - String quartet KV157 in C major

Joaquin Turina (1882-1949) - La Oracion del Torero Op. 34 for string quartet
Marcel Tournier (1879-1951) - Féerie - Prélude et Danse for harp solo
Toru Takemitsu (1930-1996) - Stanza II for harp and tape
Arnold Schoenberg (1874-1951) - Notturno sextet for string quartet, flute and harp
Heitor Villa-Lobos (1887-1959) - Instrumental Quintet for flute, violin, viola, cello and harp


Photo © Gábor Loránd
More photos here!
---