Celebrating Cornel Țăranu's 80th birthday,Aug 3, 2014
We celebrated the Romanian composer Cornel Țăranu's 80th birthday at Academia Sighisoara on the 3rd day of the summer academy and festival. His work as composer and teacher was appreciated by his former student and fellow composer, professor Adrian Pop. Cornel Țăranu's works were performed by Anamaria Stamp (piano), Adelina Oprean (violin), Ethel Merhaut (voice), Ana Chifu (flute), Mioara Moroianu (violin), Traian Boală (viola), Zsolt Török (cello) and Aurelian Băcan (clarinet).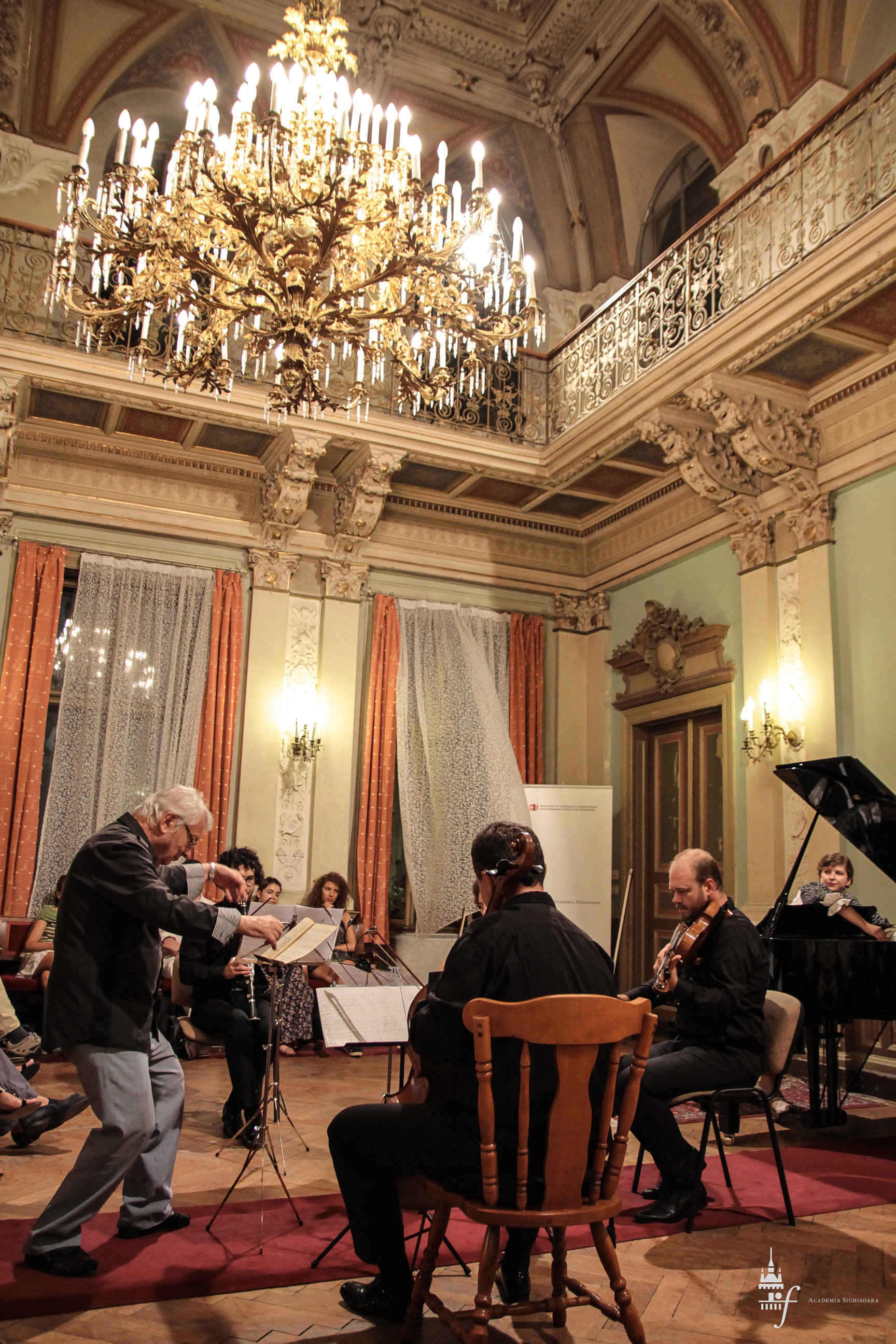 Cornel Taranu, born june 20th 1934 in Cluj. Distinguished Romanian composer of mostly orchestral, chamber and vocal works that have been performed throughout Europe, North and South America; he is also active as a conductor.
Prof. Taranu studied composition with Sigismund Toduta at the Gheorghe Dima Academy of Music in Cluj-Napoca from 1951-57, where he later earned a DMus in musicology in 1974. He also studied analysis with Nadia Boulanger and Olivier Messiaen at the Paris Conservatoire in 1966-67 and attended Darmstadt in 1968-69 and 1972, where he studied analysis with György Ligeti, conducting with Bruno Maderna and percussion with Christoph Caskel.
Among his many honors are the Great Officer of the Order of Cultural Merit (2004) (Romania), five prizes from the Romanian Composers Union (1972, 1978, 1981, 1982, 2001), the Prize of the Academy of the SR of Romania (1973), the International Koussevitzky Award (1982, for a recording of Garlands) and The Natoinal Prize for Music (2007) Doctor H.C. Music University Bucharest. He has been a member of the Romanian Academy since 1993 and was named a Chevalier de l'Ordre des Arts et des Lettres in 2002.
Prof. Taranu is also active in other positions. He founded the small orchestra Ars Nova in Cluj-Napoca in 1968 and has since served as its artistic director and conductor. He has also served as the vice-president of the Romanian Composers Union since 1990 and as director of the Cluj Modern festival since 1995. He has also published much musicological work, as well as the book Enescu in constiinta prezentului (1969, Editura pentru literatura; French translation as Enesco dans la conscience du présent, 1981, Editura stiintifica si enciclopedica).
He has taught at the Gheorghe Dima Academy of Music in Cluj-Napoca since 1957, where he was an assistant professor from 1970-90 and where he has been Professor of Composition since 1990. He has also given lectures in Germany, Israel, Switzerland, and the USA.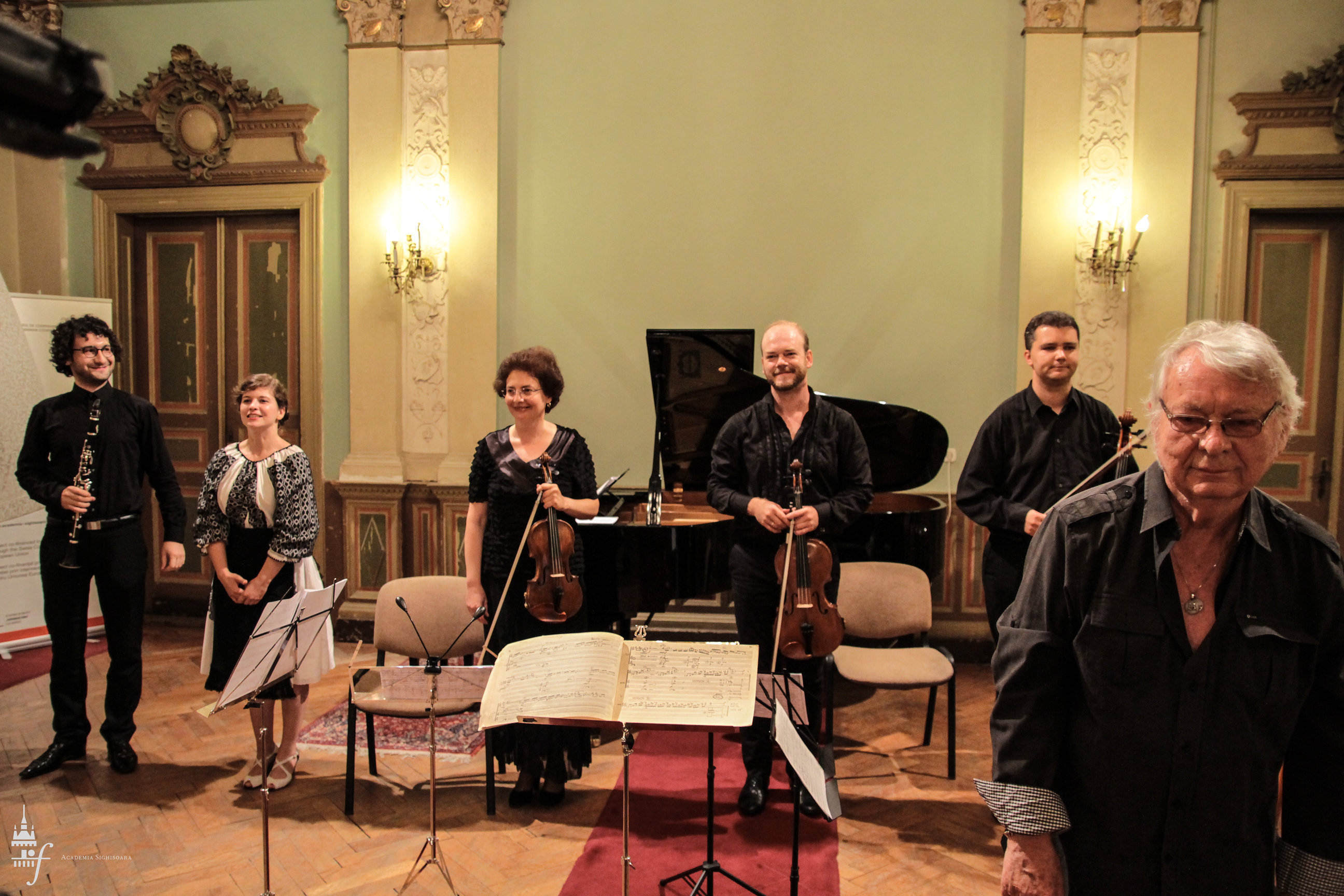 Sunday, August 3, 8 pm, City Hall
With:
Adelina Oprean, Violin
Ethel Merhaut, Voice
Ana Chifu, Flute
Mioara Moroianu, Violin
Traian Boală, Viola
Zolt Török, Cello
Anamaria Stamp, Piano
Program Cornel Țăranu (1934):
Sonata Ostinato (1961) for solo piano
Three Topârceanu Poems (1955)
Sonata for flute solo by Tiberiu Olah
Contrastes (1962) for piano solo
Sonata for violin solo
Trio for strings
Mosaiques for clarinet, string trio and piano (1992)

Photo © Gábor Loránd
More pictures here!
---