Adelina Oprean-Vinciu Moroianu night,Aug 4, 2014
A wonderful Mozart-Janáček-Schubert evening: Adelina Oprean (violin) and Viniciu Moroianu (piano) performed at the baroque hall of Sighisoara on August 4, 2014.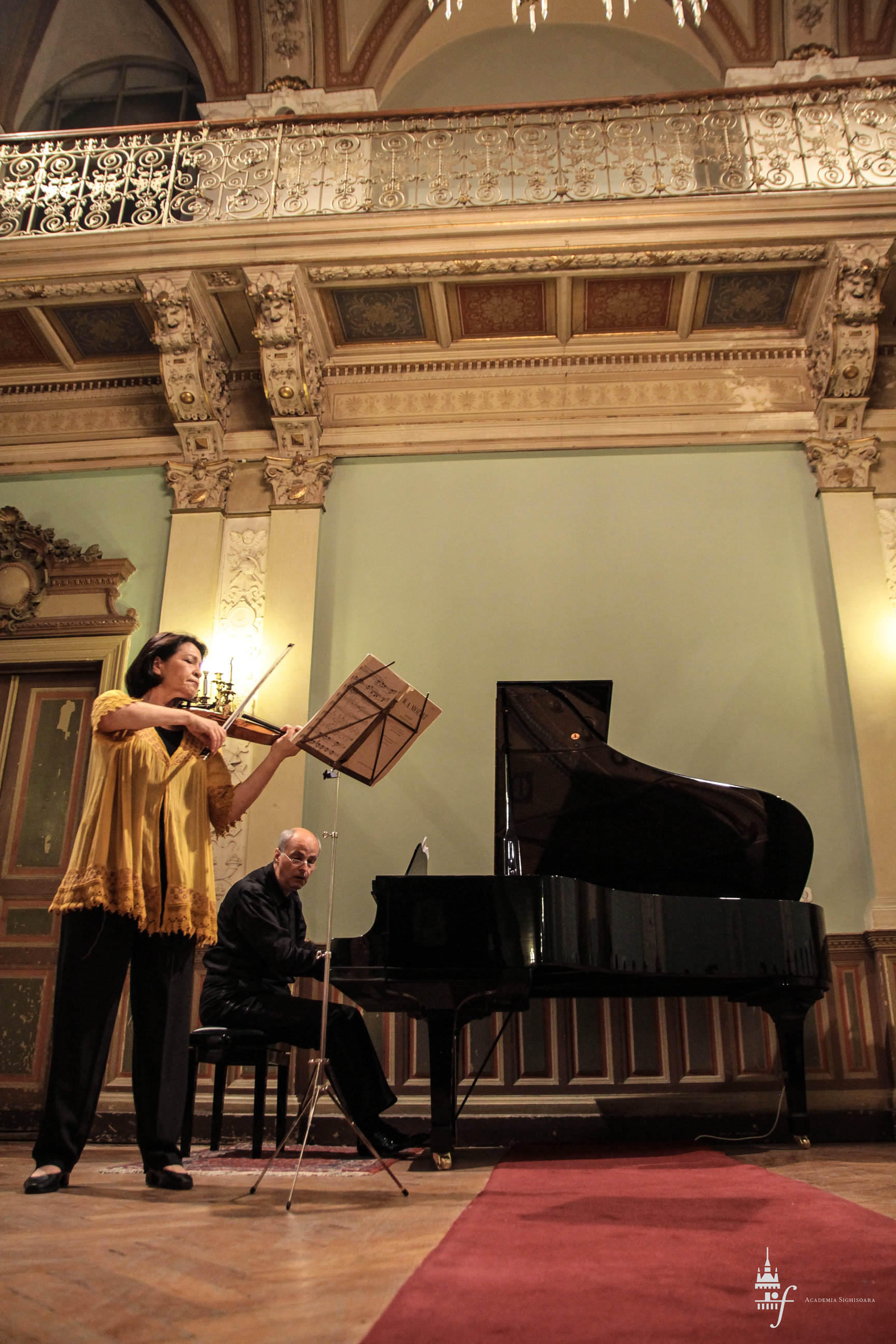 Adelina Oprean was born in Deva, Romania. She studied at the Conservatory of Bucharest under Stefan Gheorghiu, in Gstaad under Alberto Lysy and Yehudi Menuhin and under Sándor Végh at the Mozarteum in Salzburg. She has won international prizes at the Bach Competition in Leipzig, at the chamber music competitions in Belgrade, Colmar and Geneva, in Eisenmatt (Joachim competition) and London (First prize Carl Flesch Competition). From 1982 until 1986 Adelina Oprean taught at the Yehudi Menuhin Music Academy in Gstaad, assisted Sándor Végh in Lenk and since 1985 has held a professorship at the Basel Music Academy. She has performed in Europe, America, South America and Asia as well as recording for radio and television. Since 1997, Adelina has been a permanent member of the ARIA quartet in Basel, one of Switzerland's leading quartets.
Viniciu Moroianu was born in 1962 in Bucharest to a family of musicians. He studied piano with Martha Palade and graduated in 1985 from the National Music University in Bucharest, Gabriel Amiraș's class, a disciple of H. Neuhaus at the Moscow Conservatory and later professor at Trossingen. He is the winner of International Piano Competitions "Guild solistes française des Artistes - Paris, 1979 (3rd Prize) and "George Enescu" Bucharest, 1991 (2nd PrizeI). He presented his first recital at the age of 10 and his first concert with an orchestra at 14. He has a vast repertoire and concert appearances including 650 stage appearances and recitals in Paris, Rome, Berlin, Venecia, Graz, San Jose, Palm Beach, concerts with orchestras at the Athenaeum and Chișinău, and with chamber music ensembles in Berlin, Athens, Budapest and Bratislava.
He has recorded two discs for Electrecord (Brahms and Enescu) and Martinu's Concertino at "Agora", Athens. He has been professor at the Bucharest National Music University in the departments of chamber music (1990-1994) and piano (1993), his students obtaining awards at national and international competitions. He was recognized for his interpretation of the works of Enescu and Lipatti, and has written his PhD thesis on Dinu Lipatti's solo piano works. He is also a founding member of Romanian Mozart Society (1991).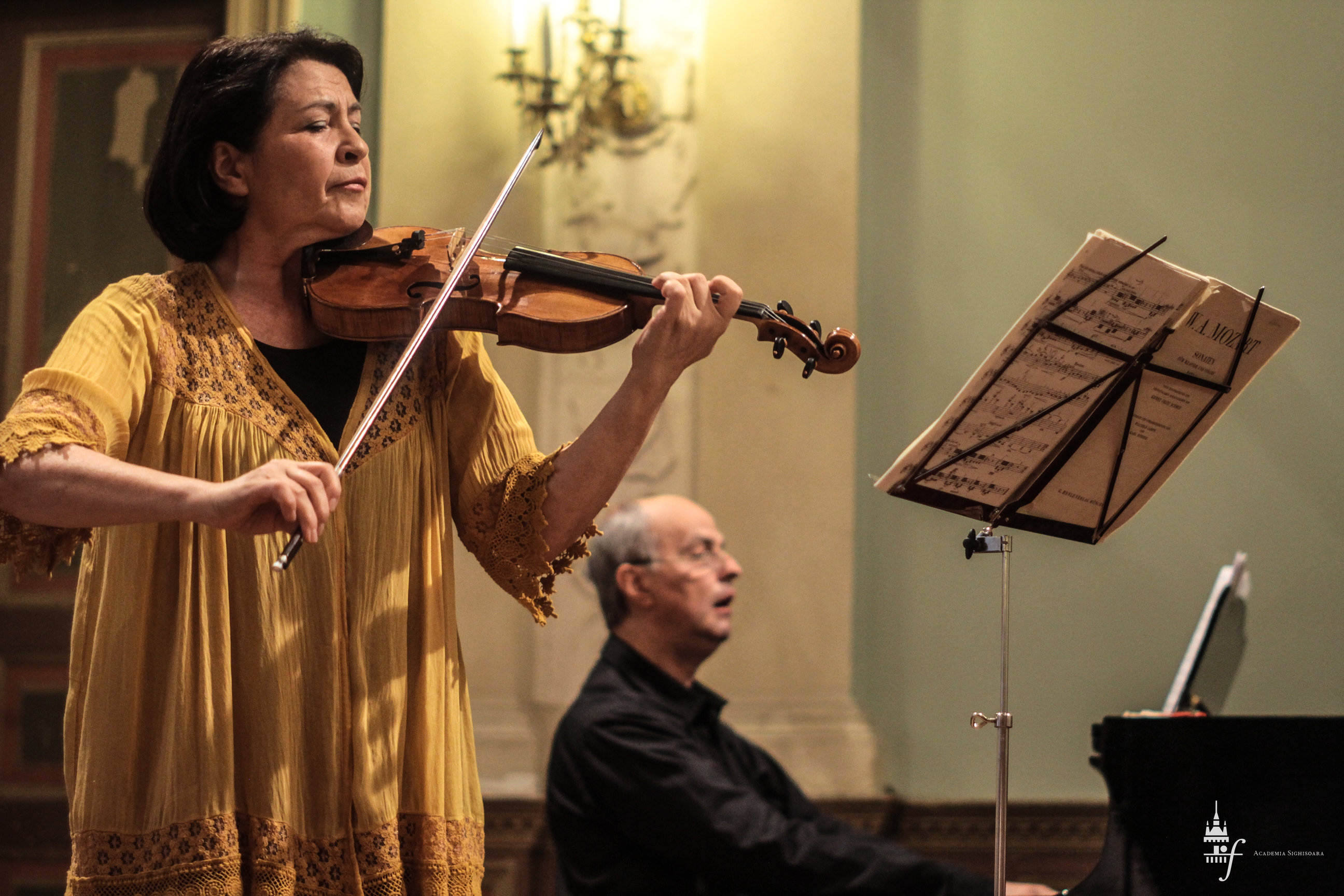 Monday, August 4, 8 pm, City Hall
With:
Adelina Oprean, Violin
Viniciu Moroianu, Piano

Program:
Wolfgang Amadeus Mozart (1756-1791) - Sonata for violin and piano in E minor, KV 304
Leoš Janáček (1854-1928) - Sonata for violin and piano
Franz Schubert (1797-1828) - Sonata for piano in A minor op.42

Photo © Gábor Loránd
More photos here!
---