Academia Sighișoara 2016,Aug 1, 2016
'Reaching the shore, I look back at the ocean of life: waves fade into the distance and all that is left is a gleaming mirror reflecting the sky – my sky: music.' (George Enescu)
This year again, the 23rd Academia Sighișoara will focus its concerts around a thematic centerpiece. Since the 2016 edition predates the great George Enescu Festival in Bucharest, we will present the revered maestro of Romanian music, as reflected by the so-called European phases of his life. It is no mistake that the most decisive stages had been selected; places (Paris, Vienna, Romania) that had a great impact on the formative development of the great musician. As such, each evening concert will present, besides compositions by the Maestro, works by composers whose music belongs to the same time and place as that of George Enescu.
August 1st, the traditional opening date of Academia Sighișoara, will also mark a symbolic opening in the Concert Hall, namely, that between the prominent Swiss composer Arthur Honegger and George Enescu. Towards the end of his life, George Enescu read the score for the cantata Jeanne d'Arc au bûcher – this was a great sign of appreciation.
Over the next four nights of the festival, Academia Sighişoara will continue to present European landmarks, as well as the musical context of George Enescu's evolution towards artistic maturity.
The programme notes of the concerts include short excerpts from George Enescu's biographies. What can be more befitting than listening while reading memories, commentaries, accounts of the Maestro himself?
Alexandru Gavrilovici, Artistic Director of Academia Sighişoara and President of Association Cultura Viva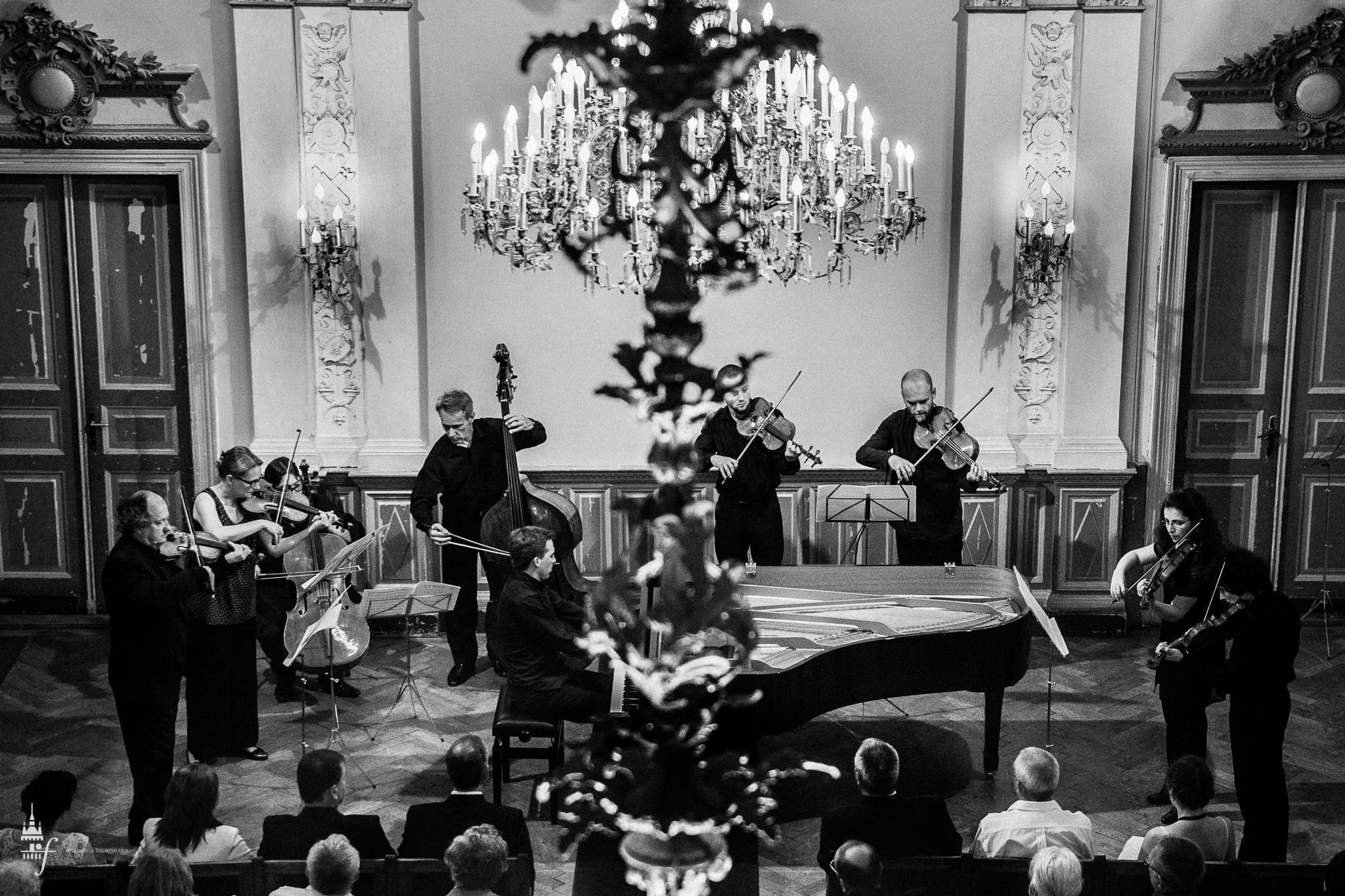 Photo © Gábor Loránd - Academia Sighișoara 2016
Swiss painist Benjamin Engeli opened the 23rd edition of Academia Sighișoara performing with the members of the Arcadia Quartet and the Archita Ensemble (formed by teachers, artists, students of Academia Sighișoara).
MONDAY, AUGUST 1
8 pm, OFFICIAL OPENING CONCERT, CITY HALL – Enescu and Switzerland

With Benjamin Engeli, piano; Arcadia String Quartet (Melinda Béres, violin - guest; Răsvan Dumitru, violin; Traian Boală, viola; Zsolt Török, cello); Archita Ensemble (Alexandru Gavrilovici, violin; Melinda Béres, violin; Răsvan Dumitru, violin; Sonia Vulturar, violin; Traian Boală, viola; Arnold László, viola; Stéphane Giampellegrini, cello; Botond Kostyák, double bass)
Johann Sebastian Bach (1865 – 1750) – Piano concerto No. 1 in D minor, BWV 1052
George Enescu (1881 – 1955) – Barcarolle in B-flat major for solo Piano (1897)
Arthur Honegger (1892 – 1955) – Trois pièces pour Piano (1919)
***
Robert Schumann (1810 – 1856) – Piano Quintet in E-flat major, Op. 44 (1842)
More photos by Gábor Loránd and Felix Vratny here!
---